| | |
| --- | --- |
| | Hall of Fame |
---
Each year a member of this site is inducted into the UZI Talk hall of fame. Inductees are selected based on personal character as well as their participation on this site. Hall of fame members set a standard for others to follow. They have shown that on-line discussion forums can be a place for productive exchanges. A place for learning, teaching, wrestling with big issues, joking with friends, and just a place to call home.
2012 UZI Talk
Hall of Fame Inductee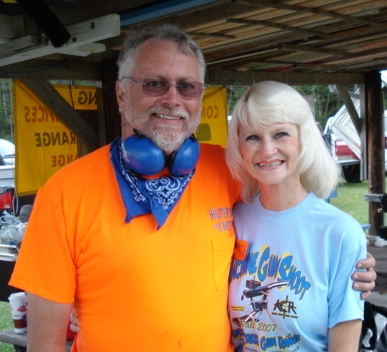 George
"BeachinBeemer"
George joined the UZI Talk web site in 2006 and quickly became a regular contributor. He never hesitated to ask questions or to offer help. George was always ready to share both wit and wisdom. You didn't have to know him long before you knew he loved his guns, his BWM mototcycles, and living along the beach. George contributed to the shooting sports he loved by hosting matches near his home in North Carolina.
As much as people enjoyed George's online presence, people who met him in person were immediately lifelong friends. His passion and friendliness were infectious. Many of us had the chance to meet George at some of the UZI Talk shoots and he was a great guy to hang out with. He was always willing to go out of his way to visit or help friends. That was clearly demonstrated when he drove his motorcycle across several states to cheer up the gravely ill UZI Talk member piratesover40.
George retired in 2009 from a long and successful career as an optometrist. He enjoyed his retirement while it lasted, but sadly George was killed in a driving accident in 2012 while he and his wife were touring the country. Everyone who knew George misses him tremendously.
Here are a few comments about "BeachinBeemer" from his friends on this site:
A first class guy all the way with a heart of pure gold. I'll miss his stops at my house on his many ventures across the country on his scooter.
- jarhead jim
He came to my side in my darkest hours to sit and hold my hand. I was very sick at the time. I found out he was as sick or worse than me but he rode his Harley all the way from Wilmington N.C. to my home in Wauchula Florid a just to cheer me up. That is the test of a true friend who loves you unconditionally.
- piratesover40
He will be missed but not Forgotten!!!!!!!
- Funker
George was an awesome guy. At my first Uzitalk shoot, I had the opportunity to chat with him quite a bit. He sure is missed around here.
- firefighter
2011 UZI Talk
Hall of Fame Inductee
Tom
"Vegas SMG"
With nearly 10,000 posts and 66 positive deals on UZI Talk Tom has been an active contributor since the first months that the site was formed. Vegas SMG's depth of knowledge and interest in firearms is very broad. From vintage military rifles/handguns through modern shotguns/machineguns, Tom has a wealth of knowledge and experiences that he is always willing to share. You don't have to look through many posts on this site before you find some helpful comments from him. With patience and understanding Tom has helped many members diagnose and solve problems that they were having.

In addition to his on-line participation, Vegas SMG can regularly be found helping with and participating in various shoots and matches. He helped provide local logistics for the UT1 and UT2 shoots in Las Vegas and is a big contributor to the monthly Las Vegas machine gun shoots. He's always willing to lend a hand in person, just like he is on-line. Tom's wit and wisdom won him the highly coveted "ASSHOLE Of the Year" award at UT4 in 2007. His gracious acceptance of the award demonstrated his ability to take crap from the gang as well as dish it out, which is one of the qualities common to hall-of-famers.

For the better part of a decade, Tom has been an icon on UZI Talk. He has earned the respect of the firearms community as a whole and made many friends. Earlier this year Tom was blessed with his first grandchild! We know he is counting the days until he may introduce his newest family member into the wonderful world of firearms and the bonding that follows.


Here are a few comments about "Vegas SMG" from his friends on this site:
Vegas SMG is is always willing to lend an ear,and is always helpful to everyone.
- Brenden
Thanks Vegas. You're my hero.
- strobro32
That Vegas guy really knows some shit
- 9mmsubgun-m11
You were a great person to deal with, and you always made me feel welcome here.
- firefighter
That is an excellently composed review. Well done Vegas!
- aspiderfreak
And Vegas you NEVER dissapoint!
- TrippHammer
Vegas, try "Bore Butter"
- shattered
2010 UZI Talk
Hall of Fame Inductee
Chuck
"piratesover40"
Chuck has been a member of UZI Talk since Sept. 2007. He has always been a very active member, submitting over 4,000 posts in his first three years on the site. Chuck has been active in most of the forums and is willing to share his knowledge and opinions on almost any topic. He is never short on opinions, or the will to share them. Chuck has been a regular participant in the MAC forum, but his gun knowledge spans discussions across the site. Chuck pours over the posts on UZI Talk, always ready to offer advice.
Chuck has been known to push the boundaries of this site on occasion, but Chuck thought deeply about those experiences and he learned from them. He learned how to combine who he was with what this site needed from him, so he could bring his knowledge to the forums in a way that would benefit all who read them. That old pirate's ability to learn new tricks was certainly an inspiration to all of us.
More than anything else though, what really showed Chuck's true colors was his struggle with health issues over the last year. When the chips were down, Chuck made it clear that the members of this site are part of his family and he let us into his personal life. It was then that we really understood the depths of his courage and conviction. He learned from his health battles like he learned from everything else, and he shared with us so we learned too. We're grateful that he did. Battle on Chuck!
Here are a few comments about "piratesover40" from his friends on this site:
You will always be my friend Chuck. You were the first one who befriended me here on UZITALK when I first became a member, You are one of the headliners on the marquee.
- GUTTERRATT
Chuck, keep fighting. I've only spoken with you in e-mail a few times, but I consider you a friend. Your posts have always made this site a little more entertaining. If God gives points for making people laugh, you'll breeze through the Pearly Gates when your time comes.
- coyle311
Chuck, you're an amazing guy. Everyone deals with life, and death, differently, and you have shown courage, beyond what most could imagine.
- Ben Dover
Pirate, I wish I could have met you in person and not just behind this computer screen. You seem like a truly down-to-earth kind of guy who says it like it is. +1 to that.
- medphys
---
Copyright © 2002-20017, UZITalk.com
International copyright laws DO apply to Internet Web Sites!
All Rights Reserved.
Last Modified: May 27, 2017
Contact: librarian@uzitalk.com