| | |
| --- | --- |
| | Action Arms |
---
The story of Action Arms starts with a man named Harry Stern, a Jewish-American born in Philadelphia in 1919. The events of World War II made a great impact on Harry. Although sheltered in the United States from the Nazis and the Holocaust, he felt the pain of the European Jews through the deaths of many of his relatives living in Poland, Germany and Russia. Harry resolved that he would always work for the benefit of the Jewish people, and later for the Jewish State of Israel.
Harry Stern graduated from Drexel as a mechanical engineer in 1944 and two years later he opened a small machine shop in Kensington. Action Manufacturing was born. They started doing work for the Frankford arsenal, initially on small components and later it grew into large scale production of major assemblies, particularly fuses. Harry grew the business by bidding on many contracts with slim margins. In 1953, Harry bought out the two partners he had at Action Manufacturing and he was now totally in control of the operation. At the height of operations in the early 1980's, Action Manufacturing had annual revenues of several million dollars, over 1,000 employees and six factory complexes covering nearly half a million square feet. They had 130 buildings spread over 230 acres just for the manufacturing and testing of explosives. The company's specialty was manufacturing precision electro-mechanical instruments for industry and the military. Action Manufacturing sold military components to governments around the world, but was especially supportive of Israel. In his attempt to support Jewish people, Harry took great pleasure in providing Israel with the tools it would need to defend itself. His sales to Israel brought him in regular contact with many people from Israel Military Industries (IMI).

In 1976, Uzi Gal decided to move from Israel to Philadelphia to seek medical treatment and special schooling for his daughter. Hearing of his intentions, someone at IMI put Uzi in contact with Harry Stern and Uzi took a job at Action Manufacturing. Initially Uzi Gal worked on projects unrelated to the UZI. Then one day, Daniel Tabas, a sporting arms distributor in Melrose Park and a friend of Harry Stern suggested that Uzi should design a semi-automatic version of the UZI for the civilian market. Harry passed this suggestion on to Uzi, who initially dismissed it but later agreed. Nearly 30 years after his initial design, Uzi Gal began working on a semi-automatic redesign suitable to United States firearms regulations. He had three problems to resolve: the UZI must meet the proper length requirements, it had to fire from a closed bolt, and it had to be relatively difficult to convert to fully automatic fire. To solve the length problem, the barrel was lengthened to 16.1". The bolt was significantly redesigned to fire from the closed position and to purposely jam during full auto firing. Finally, a barrel restrictor ring, a bolt blocking bar and a selector blocking bar were added to prevent full auto conversions. The new design was shipped off to IMI were they did a few minor modifications and final testing.
In 1979, Action Manufacturing created a new subsidiary called Action Arms, Ltd. to import the UZI and sell it in the United States. Harry was the president of Action Arms and Mitch Kalter was named the Vice-president and general manager. Action Arms imported both the new semi-auto UZI carbine as well as the full auto UZI SMG, which could be sold to law enforcement agencies. The guns, along with parts and accessories, were imported in bulk and packaged for individual sale in the United States. Mitch Kalter was an active spokesperson for the company, often times meeting with magazine writers to demonstrate the new semi automatic UZI. He personally trained Arnold Schwarzenegger how to properly assemble and handle an UZI for the movie The Terminator.
As part of setting up Action Arms for business, they worked with the ATF to obtain the appropriate firearms license and to get approval for the newly designed UZI carbine. During the process, Harry Stern came in contact with Evan Whildin, an ATF agent working in the Philadelphia area. That meeting would later prove to be fruitful for all members involved. In early 1980, the new semi automatic UZI carbine made its debut at the Shooting, Hunting and Outdoor Trade Show (SHOT Show) at San Francisco's Brooks Hall. Actions Arms was one of 400 exhibitors displaying products at the SHOT show, which had its premier opening just the year before. Uzi Gal was on hand to promote his new weapon. In June of 1980, Soldier Of Fortune magazine reviewed the highlights of the SHOT Shot, including the following information on the new UZI. (UZI Talk note: their claim that Uzi Gal designed the Galil assault rifle is incorrect.)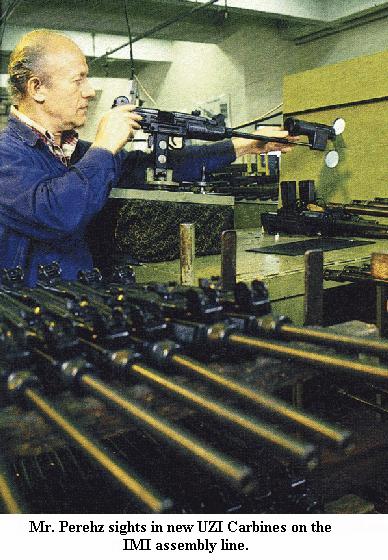 Action Arms products were sold through a network of about 35 distributors, who in turn sold the products to gun shops around the country. Using distributors is not an uncommon strategy, but it was not done purely for business reasons. According to Jewish law, one may not hunt animals for sport, or enable other Jews to do so. Harry didn't want to break this law so he asked an orthodox Rabbi for a ruling on the issue. The Rabbi ruled that by using distributors, Action Arms had no control over the final point of sale of the guns and therefore they were not violating Jewish law. In his typical style, Harry found a way to balance his business and personal needs. With the marketing underway and the distributor network established, the semi-auto UZI's began to roll off the assembly line.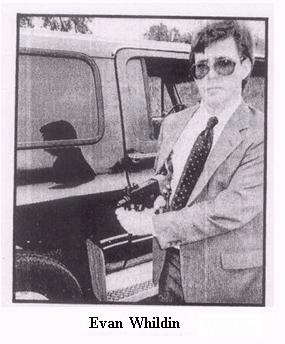 In 1982, The ATF told Evan Whildin that he'd have to move to Washington D.C.. Evan wasn't interested in the move so he used the opportunity to leave the ATF and join Action Arms. In 1984, Mitch Kalter died and Evan Whildin became the new General Manager. Evan was a true gun enthusiast and knew many people in the gun industry. Evan's work on cartridge development lead to the .41 Action Express, which Action Arms promoted in their UZI line as well as other firearms. Evan stayed with Action Arms until 1990, when he left for a job with Colt, a company he had wanted to work for since before his days at Action Arms.
During this time Harry Stern continued to focus on Action Manufacturing. With his technical background, he found the manufacturing part of Action Manufacturing to be more interesting than the sales and marketing organization at Action Arms. In 1985, Harry decided to sell Action Manufacturing but stayed on as a consulting role for an additional three years, working out of an office at Action Arms. By that time, his son Jerry Stern was working at Action Arms and Jerry went on to run the company in 1990 when Evan left.

During the 1980's, Action Arms continued to expand it's product offering. Initially it focused solely on the UZI, adding new models like the UZI Pistol and the Mini UZI as well as a full line of ammo and accessories. By the late 1980's, Action Arms had a much broader product line, including the Solothurn and CZ pistols, plus the Galil and Timberwolf rifles. A major setback for the business occurred in 1989 when the US banned the importation of assault weapons. The flagship products for the civilian market - the UZI Carbine and Mini UZI Carbine - could not be imported any more. The only UZI left in the Action Arms catalog was the UZI Pistol. Action Arms continued to sell the UZI Pistol for a couple more years but by 1991, they quit importing them because they feared they would soon be banned. That didn't actually happen until 1993. In the 1990's, Action Arms tried to change their image into a sporting arms and optics company, but they made one more run at the UZI in 1994 when they started to sell the newly imported Norinco UZI. Although not the importer of the Norinco UZI, Action Arms was the sole distributor. Action Arms ended business operations on April 30, 1995, but Action Manufacturing continues on to this day.
UZI Imports to the United States
Model A imported from 1980-1983, serial # range from SA01,001 – SA037,000
Model B imported from 1983-1989 (stopped by legislation.) Serial # range SA037,001-SA073,544
Mini Carbine imported from 1987 – 1989 (stopped by legislation)
UZI Pistol imported from 1984-1993 The .45 ACP version of the pistol was discontinued in 1989 and the 9mm version was discontinued in 1993 due to federal legislation..
Serial number prefixes for semi automatic UZI models sold in the United States
| | |
| --- | --- |
| SA | 9mm Model A & B |
| 45 SA | .45 ACP Model B |
| 41 SA | .41 AE Model B |
| MC | Mini UZI |
| UP | 9mm UZI Pistol |
| 45 UP | .45 ACP UZI Pistol |
| AA | prototype/experimental |
| AAL | prototype/experimental |
---
Copyright © 2003-2006, UZITalk.com
International copyright laws DO apply to Internet Web Sites!
All Rights Reserved.
Last Modified: February 4, 2006
Contact: librarian@uzitalk.com